Sticks for Frogs? – If you've just built a brand-new wetland, you might want to try this. Take small sticks or thin stakes that emulate plant stalks and insert them into the mud. Frogs use the sticks to attach their egg sacks to. – a project by the Clarence Fulton WCE students
Located alongside Vernon Creek, in the heart of the Okanagan, this WCE has two constructed ponds, a restored 3-acre wetland and a creek running through the property. Each may, students get knee-deep guiding Grade 4 students through a section of their science curriculum.
You can sit in the school cafeteria and look out on the wetlands and Vernon Creek. You will also see a traditional cottonwood canoe donated by the Syilix Okanagan Nation mounted on stand made by the WCE students.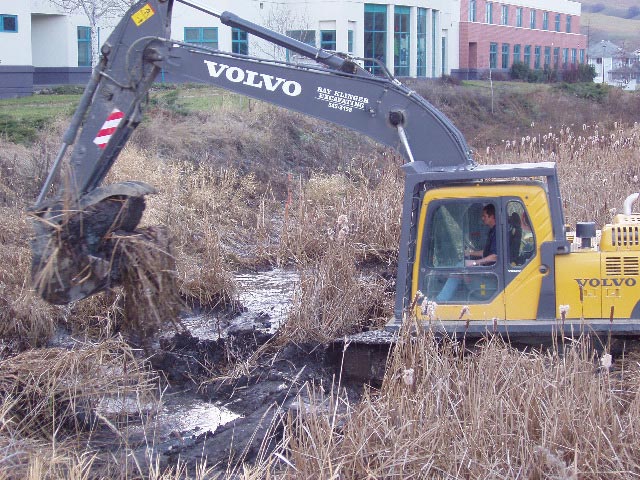 "It's not big (wetland area), but it is significant in terms of wildlife. It didn't take long for bear, deer, coyotes, beaver, porcupines and a diverse bird population including great horned owls, herons, storks, hawks and ducks to benefit from the wetland restoration. It's pretty spectacular."
Facts & Highlights
Northern Pacific Tree Frogs are the most common frogs on the West Coast of North America and you will definitely hear them at Clarence Fulton. They produce two different kinds of very loud calls – a two syllable 'rib-it' call and a one syllable or monophasic call.
Vernon, British Columbia - Established in 2005
Wetlands were restored in 2004 through excavation
Rebuilt the boardwalk, trails and installed new interpretive signs
Interpretive signs were designed by graphics art students and constructed and installed by metal and woodwork students
Inventoried wildlife present